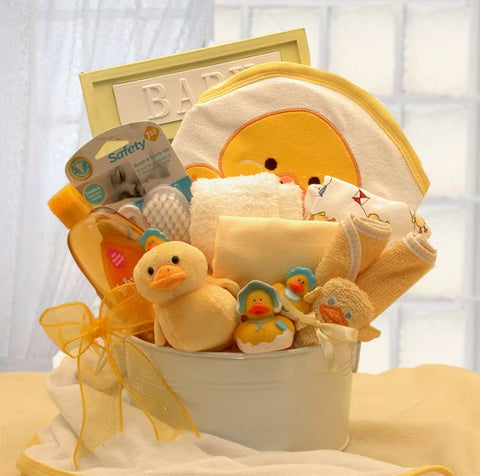 Bath Time Baby New Baby Basket-Blue
Description:
In the Bath Time Baby gift basket, the Plush Momma duck is followed by the baby ducks. Cozy bath accessories include a hooded bath towel, a baby picture frame, and an ultra soft Duckling blanket. Send the Bath Time Baby gift, available in 2 sizes, to your favorite bath time baby! (Available in Blue, Yellow and Pink) Includes: Baby Wash Tub 8" round, 7 oz. Johnson & Johnson Tearless Baby Shampoo, 2 100% Cotton Tee-shirts
Hooded Baby Bath Towel (various designs, not all are ducks), 2 Baby Caps, 4 Terry Cloth Wash Cloths, 5x7 Baby Picture Frame (holds a 3x5 photo), 3 Rubber Ducks (1 momma and two babies), Baby Brush & Comb Set, and Plush 6" baby Duck.